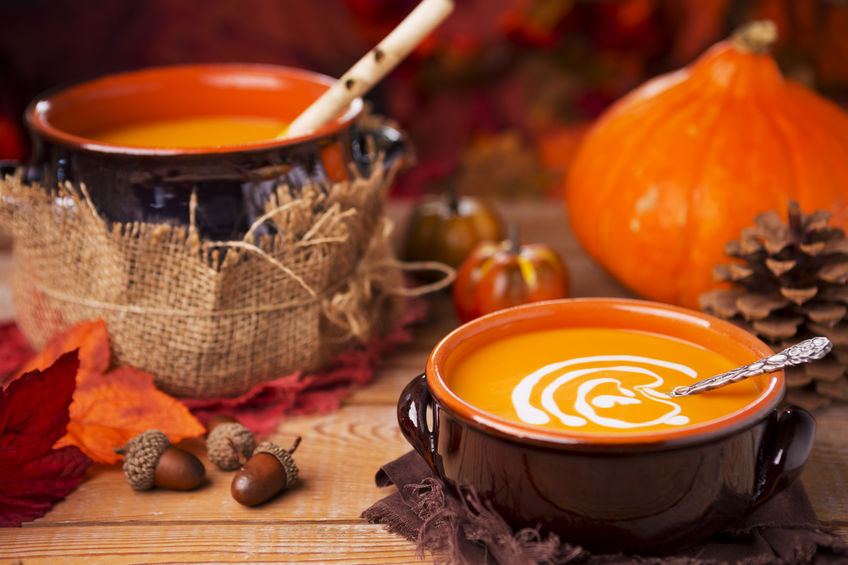 Pumpkin: Smart Fuel 3 Ways
Written by: Tammy LeBoss, The FitPro Foodie
---
Ready for that time of year, full of chilly evenings, colorful leaves, festivals and holiday gatherings? For many foodies, it's a fun time to experiment with new recipes. This season, try bumping up your smart fuel source using the power of pumpkin. Pumpkin packs a punch of the antioxidant powerhouse, beta-carotene, vitamins C and E, potassium, and a hearty dose of vegetable fiber. It is considered to be one of nature's richest sources of the beta carotene which is converted to vitamin A by the body; this plays an important role in many vital functions. Current research suggests that beta carotene may also serve as a powerful tool for fighting cancer and heart disease. Pumpkin is not only a smart fuel source, but it's also low in sugar. Containing many trace minerals, including over 560 milligrams of potassium, pumpkin can help to balance out the body's sodium to potassium ratio; this is important for optimal cellular function and energy production.
Pumpkin Seed Soup
Why pumpkin seeds? Pumpkin seeds have been referred to by nutritional experts as one of the world's oldest and most recognized superfoods!
Here's the easiest way to cook pumpkin seeds: Remove seeds from 1 large pumpkin, then rinse and dry. Preheat the oven to 375 degrees F. Scatter pumpkin seeds onto a sheet pan in a single layer and drizzle with olive or pumpkin seed oil. Sprinkle with salt and pepper and toss to coat. Bake for about 7 minutes, until light brown and crispy.
To prepare the soup, blend seeds with the following ingredients:
3 cups of fresh or canned pumpkin puree
4 cups chicken broth
1 Tbsp. fresh sage or coriander
salt and pepper to taste
Add 1 ½ cups sautéed mushrooms, 1/2 cup sautéed onion, 2 tsp. minced shallot, and 2-3 minced and sautéed garlic cloves. Mix over medium heat and then allow to sit on low heat for 15-20 minutes. Top with lightly toasted pumpkin seeds and a small amount of cream, butter or ghee. To boost your anti-oxidant power, learn more about using cold-pressed pumpkin seed oil which can be used in soups, smoothies and more.
Savory Pumpkin Sauce
Is canned as good as fresh? According to a University of Illinois study, canned pumpkin packs about 20 times the amount of beta-carotene of fresh, cooked pumpkin! In general, canned foods are generally picked and quickly cooked and packaged at the peak of ripeness. In the case of pumpkin, the heating used in canning preparation enhances the beta-carotene content in a similar way that heating does the lycopene in tomatoes.
For your next holiday meal, this savory canned pumpkin sauce can be a great pairing with the protein source of your choice. This healthy yet delicious sauce compliments turkey, pork, seafood and veggie dishes. Using ghee or clarified butter adds a buttery, guilt-free richness as well as the benefits of good fats.
Begin by sautéing ½ minced onion and 2-3 cloves of garlic in a small amount of ghee or cooking oil. Add 4 Tbsp. butter or more ghee part way through. Once onion and garlic are nearly done, add 3 Tbsp. of minced fresh parsley. Add 1 ½ cup savory or plain pumpkin puree and 1 cup chicken stock. Allow to warm and mix well. Sprinkle with sea salt and pepper to taste. In serving bowls, pour sauce over prepared protein source of your choice, and garnish with toasted pumpkin seeds, fresh parsley, pine nuts, or bacon.
Pumpkin Spice Smoothie
Your healthy 'dessert' recipe compliments of: www.mybodysymphony.com
Combine in a blender the following ingredients:
4-8 ice cubes
½ – 1 frozen banana
8-12+ ounces of filtered water, almond or coconut milk. Add liquid before the dry mix to help keep the powders from sticking to the sides of the blender
1-2 scoops of Pumpkin Spice SuperFood Protein Mix (or use one of the unflavored varieties and add cinnamon & ginger – 3 to 1 ratio is recommended, depending on how substantial a meal you'd like this to be;
Optional: to boost protein content add 1 or more scoops of either P3-Paleo Pumpkin Seed Protein or P4-Peak Performance Plant Protein; or substitute with your favorite pumpkin-flavored protein powder;
Optional: to increase the carbohydrate content, either add more fruit or add a few ounces of oats or granola;
Blend it for 30-60 seconds (it often helps to pulse it several times to get it going); To adjust the thickness use less or more liquid as desired;
Top smoothie with nutrient-rich toasted pumpkin seeds, and enjoy!