Authors: National Association for Fitness Certification (NAFC) and Alex McKechnie
Description:
With the Core X System, clients will stabilize their entire core, decrease their chance of injuries, and increase coordination, speed, and agility. Through the use of this proprietary system and training techniques, Core X complements all activities of daily living and sport-specific movement. A full body workout in just 30 minutes! This system is being used in rehab and with amateur and pro athletes all around the world.
Education Level: Intermediate
Prerequisites: NAFC Personal Training Certification, Group Fitness Certification, a College Degree in the Fitness Field, or an approved Equivalent.
Target Audience: Health-Fitness Professionals, Allied Health and Medical Professionals.
Course Content:
CORE-X Course Equipment
CORE-X System introduction document
CORE-X System Workshop Packet
CORE-X PDF Manual or Interactive Virtual Workshop, or Live Workshop
CORE-X Videos
CORE-X Online Theory Exam
CORE-X Practical Live or Virtual Exam
CORE-X Music
CORE-X Evaluation Tips
Time to Complete: 18 Months to complete Examination Process
Course Access: Continued access with updates available
After completing this course, you will be able to:
Define the purpose of the CORE X SYSTEM.™
Describe the benefits of the CORE X SYSTEM.™
Explain how to safely and effectively apply the theory (and benefits) of training from the inside out in all 3 planes of motion.
Recognize how to guide a client through the proper set up, troubleshooting, and intensity adjustments of the CORE X SYSTEM Device for each individual.
Explain how to demonstrate, instruct, and correct sport specific exercises in the areas of group fitness training and small group training environments.
Identify the differences between using the CORE X SYSTEM™ in the group fitness and small group training environments.
Explain how to safely and effectively train and progress clients of all fitness levels within the safety guidelines of the NAFC PowerCert™ and CORE X SYSTEM™ Training.
CE Values:
Continuing Education credit is included in the price of this Power Certificate Program. Successful completion of the course content and course examination(s) is required to receive continuing education and the Power Cert Certificate of completion.
NAFC 1.0
NESTA 1.0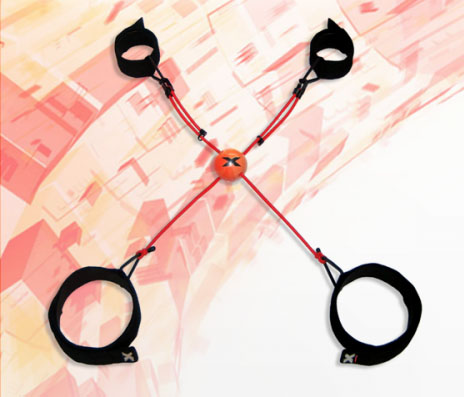 CORE X SYSTEM Device
Product Includes:
CORE X SYSTEM Device with Arm & Leg Attachments
CORE X SYSTEM Lower Body Intensifier
CORE X SYSTEM Travel Bag
Individual Pricing: 1-9 $59.95 each
Small Class Pricing: 10-19 $44.95 each
Medium Class Pricing: 20-29 $42.50 each
Large Class Pricing: 30-49 $39.95 each
Small Gym Pricing: 50-99 $37.45 each
Large Gym Pricing: 100+ $33.00 each
Over 100: please call NAFC 1.800.324.8315
Note: When ordering more than one device, add this item to cart and use the "+" button to increase the number of items to order. The bulk discount will take effect when 10 or more devices have been added.