Trainers Transform Lives – We Transform Trainers
Personal Trainer Certification Information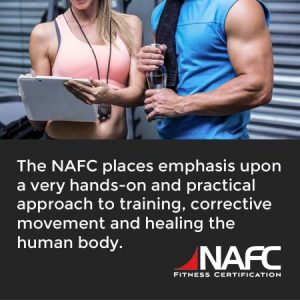 Prerequisites:
Minimum GED or High School Diploma required.
You must be 18 years of age or older.

You must have and maintain a CPR/AED certification.
Course Education Level: Intermediate
Continuing Education Credits: 2.7 IACET 2.7 NAFC
How it Works:
To earn this certification…
You must complete all course materials.
You must complete a Foundations of Fitness and Exercise Exam and a Theory/Practical Exam with passing scores of 80% or higher.
You have up to 18 Months to complete your Examination Process.
You maintain continued course access with updates available.

Certification Process:
Your NAFC personal trainer certification is valid for 24 months. During those 24 months you must complete continuing education prior to your renewal date to qualify for re-certification.
Recertification is required to keep you up to date with industry standards and practice. You must complete and submit 20 hours (2.0 NAFC credits) of continuing education in a 24 month period of time prior to your renewal date and complete a re-certification application to be recertified.
Click Here for System Requirements to View and Complete this Course.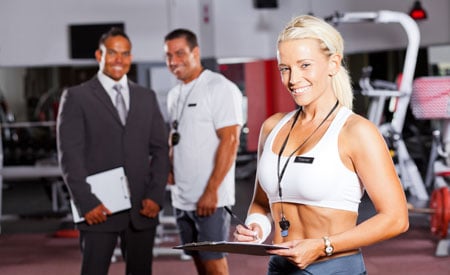 Through evidence based content and practical application, NAFC will mold your ambition into a highly refined skillset that stands above all competition. Take the first step towards a career that improves lives. Enroll in the NAFC Personal Training program today.
The Personal Trainer Certification content is divided into 4 domains to make it easy for you to focus and master one content area before you move on to the next. NAFC provides easy to read and easy to follow content to help you learn and retain with audio and video assistance. Additional Study Materials are provided to help you see and apply practical application concepts.
Personal Trainer Certification Course Materials include:
NAFC Candidate Handbook (How to become and remain certified)
Introduction Document (A roadmap to completing your certification)
Online Interactive Course: Foundations of Fitness and Exercise (Foundational knowledge for the fitness profession)
Online PDF Manual 1: Personal Trainer Fundamentals
Online PDF Manual 2: Fitness Assessment and Programming
Online PDF Manual 3: Personal Trainer Skills
Study Guide PDF Manual (Review certification material and frequently asked questions)
Practical Application PDF Manual (Forms, assessment protocols, and corrective exercise content for several common exercises)
Virtual Workshop Videos (44) (Master trainers explain and demonstrate several skills)
Anatomical Movement Videos (To help you visualize basic movement)
(PDF Manuals can be viewed on a computer or tablet and can be printed for reading.)
Domain 1
Foundations of Fitness and Exercise (Online Course)
After completing this course, you will be able to:
Identify eight cardiovascular risk factors and their relationship to health.
Describe lifestyle disease, preventive medicine, and the concept of exercise as medicine,
Describe the five components of fitness and the role genetics plays in exercise.
Identify the twelve organ systems and major bones, joints, and muscles and their properties in the human body.
Identify nine anatomical reference and twelve anatomical movement terms to describe human movement.
Describe the role of levers and planes of motion in human movement.
Discuss six principles of exercise training.
Describe how the three energy systems work in the body.
Identify basic agonist muscle action in eight areas of the body.
Describe agonist/antagonist muscle action in gravity for twelve movements.
Describe the five parts of the NAFC ANSERTM
Domain 2
Module 1: Personal Trainer Fundamentals (Instructional Manual)
After completing this course, you will be able to:
Recognize ten factors that affect your role as a personal trainer.
Identify nine professional responsibilities for someone working in the fitness profession.
Define and explain five types of exercise training.
Explain how to choose equipment for three types of exercise training.
Recognize four types of instructional/motivational techniques.
Explain how to perform 24 basic exercises safely and effectively.
Recognize six basic concepts about nutrition and 5 primary nutrients.
Discuss how to balance your diet with eating strategies, nutrition standards, and the caloric value of food.
Recognize options and recommendations for choosing healthy foods and supplements.
Recognize four important factors in nutrition for athletes.
Identify nine factors important to making healthy dietary changes.
Discuss the role of diet in osteoporosis and iron deficiency.
Explain how to onboard a personal trainer client using accepted fitness industry screening and onboarding processes.
Domain 3
Module 2: Fitness Assessment and Programming (Instructional Manual)
After completing this course, you will be able to:
Recognize the importance and benefits for effective and successful fitness assessment.
Discuss the fundamentals of cardiorespiratory health and fitness, including cardiorespiratory disease and intensity of exercise.
Identify the benefits of musculoskeletal fitness in health and function.
Describe how to assess and correct postural alignment/function for the feet/ankles, knees, hips and pelvis, lower back, upper back, and spine.
Discuss the role body composition plays in health and how to assess/calculate body composition and body fat using 8 methods.
Explain safe and effective assessment for cardiorespiratory fitness using six methods.
Explain safe and effective assessment for muscular fitness using four methods.
Explain safe and effective assessment for flexibility using a goniometer, 4 types of Sit and Reach tests, trunk rotation, shoulder flexibility, and change over time methods.
Recognize tools and methods for a safe and effective cardiorespiratory fitness exercise program based on the ACSM FIT-VP guidelines for aerobic exercise.
Recognize tools and methods for a safe and effective muscular fitness exercise program based on the ACSM FIT-VP guidelines for resistance training.
Recognize tools and methods for a safe and effective flexibility program based on the ACSM FITT-VP guidelines for flexibility exercise.
Describe exercise programming techniques for the low back, older adults, sports/skills training, and core strength training.
Identify six factors that play a role in exercise safety.
Identify how to care for potential exercise related injuries including RICE, and five acute and chronic conditions.
Domain 4
Module 3: Personal Training Skills (Instructional Manual)
After completing this course, you will be able to:
Identify five concepts to help clients overcome psychological barriers for exercise adherence.
Explain four ways that a client can be misled to poor eating behavior.
Describe six factors that can help clients improve self-confidence to lead a healthy life.
Identify the stages of the Trans-theoretical Model to help move clients toward healthy lifestyle compliance.
Recognize three common motivational methods for clients and appropriate goal setting for clients using the SMART acronym.
Describe six ways to help a client stay on track with weight management.
Describe disordered eating and three types of eating disorders.
Explain the physiology of weight loss including the three factors that affect weight management and the Set Point Theory.
Explain weight loss factors including goals for weight loss, daily energy requirements, eating breakfast, diet monitoring, and adherence.
Recognize the physiology of stress and the psychology of stress management including personality and time management.
Explain how to cope with stress using exercise, muscle relaxation techniques, visual imagery, autogenic training, meditation, yoga, and 5 breathing techniques.
Summarize the need for safe and effective exercise modifications for special populations including asthma, arthritis, and diabetes.
Identify special needs for safe and effective exercise for pre/post-natal clients.
List nine health hazards that affect wellbeing and quality of life.
Recognize 5 ways to improve communication with clients and the 4 stages in the instructor/client relationship.
Interactive Foundations Course
Practical Application Materials
Interactive Foundations Course
Practical Application Materials
Additional Certification Options
If you are confident in your ability to pass general fitness concepts, fitness anatomy and physiology, basic nutrition, fitness assessment and programming requirements, and fitness legal aspects content without first studying the NAFC study course material, this option would be for you.
Product Detail
To become certified with the National Association for Fitness Certification, you must pass the Foundations of Fitness and Exercise 50 multiple question exam and the PT Certification Theory and Practical 120 multiple question exam with a minimum score of 80%. You must pass the Foundations of Fitness and Exercise Exam before you can access the Theory and Practical exam. If you receive a no pass on an exam, a retake will be necessary. The retake cost is $25.00.
If you are unsure, then you would benefit from our complete online courses and additional study materials. You will not receive any study materials with this option, so ensure that you have a complete understanding of the education required to pass the exam prior to purchasing. (You can also see the required content under the course objectives tab.)
Feel free to contact an NAFC Career Consultant for help in selecting the best option for you.
$149.00
The NAFC Job Placement Money Back Guarantee assures that you will secure a job in the health and fitness industry within 90 days of completing all certification and career management requirements.
Included at a discount with NAFC Certifications "All-Access" Option
Product Detail
NAFC is committed to providing you with all the tools you need to build a successful and rewarding career.
Not only do we offer a money-back guarantee opportunity, but we also connect you with a Career Management Specialist who will work hand-in-hand with you as your personal career advocate and help place you in the best possible job to match your skill-set.
Your Career Management Specialist will provide you with all of the following services:
Qualify you for jobs in the health and fitness industry 

Gain an understanding of the type of job/career you want

Inquire about any special skills you may possess and/or CECs received

Direct you toward available positions in your area

Advice on 'Career Tools' that will help improve your expertise

Work to place you with fitness and health companies

Help you improve your visibility to companies

Assist in creating resumes and cover letters

Assist in preparing you for the interviewing process

Post a video which serves as an introduction to possible employers and provides evidence of your skills as a trainer.
These services are included with your purchase of the NAFC Job Placement Guarantee at no additional charge.
Job Placement Guarantee Guidelines
If you have met all the required criteria but still have not secured a job within 90 days of completion, NAFC will refund all amounts paid to NAFC for the course package. This money back guarantee applies to the NAFC Personal Trainer, Group Fitness Instructor, and Nutrition Coach course packages only.
To receive this refund, you must have applied for at least 5 positions related to the purchased NAFC certification within the 90-day period and have met the criteria for each position (including passing any required background checks). Failure to appear for a scheduled interview will disqualify you from this money back guarantee.
You must also have met with an NAFC Career Management Specialist and satisfied any additional requirements that they assign.
Any refund must be requested from NAFC's Member Services Department within 12 months of purchasing the NAFC course (with Job Placement Guarantee). NAFC reserves the right to request evidence of purchase and/or of job applications and rejections. NAFC may, at any time and without prior notice, change the terms of, or discontinue, this Job Placement Money Back Guarantee.
$199.00