Join the New Wave of Group Fitness Instruction
Group Fitness Instructor Certification Information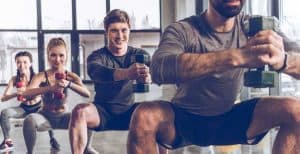 Prerequisites:
Minimum GED or High School Diploma required.
You must be 18 years of age or older.
You must have and maintain a CPR/AED certification.
Course Education Level: Intermediate
Continuing Education Credits:  2.7 NAFC
How it Works:
To earn this certification…
You must complete all course materials.
You must complete a Foundations of Fitness and Exercise Exam and a Theory/Practical Exam with passing scores of 80% or higher.
You have up to 18 Months to complete your Examination Process.
After you are certified, you continue to have access to your course materials and any updates.
Certification Process:
After Completing your NAFC Group Fitness Certification, your credential remains valid for 24 months. During those 24 months you must complete continuing education prior to your renewal date to qualify for re-certification.
Recertification is required to keep you up to date with industry standards and practice. You must complete and submit 20 hours (2.0 NAFC credits) of continuing education every 2 years prior to your reoccurring certification expiration/renewal date. Before each two year renewal date, you must also complete a NAFC re-certification application to maintain your active certification status.
Click Here for System Requirements to View and Complete this Course.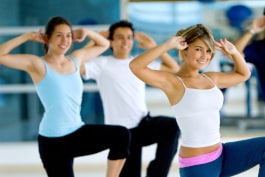 Develop a skill set that stands above the competition with the NAFC Group Fitness Instructor Certification program. Learn the basics in human anatomy and physiology and the fundamentals of fitness to give you a firm foundation from which to build your practice. Your Group Fitness Instructor Certification manual covers all the basic concepts and skills you will need to start and grow in your Group Fitness Instructor career. You will learn about your role and legal responsibilities, basic nutrition, class planning, choreography construction, class delivery, safety, best practices, special populations, the ACSM Guidelines for exercise, and the fundamentals of four basic class formats. Videos will help you review and visualize group fitness concepts. The study guide will help you review as you go or to prepare for your exam.
Group Fitness Instructor Required Course Material Include:
Manuals and Online Course
Foundations of Fitness and Exercise Online Interactive Course
PDF Manual: Group Fitness Instructor Certification Manual
Ancillary Content
NAFC Certification Candidate Handbook
GFI Introduction
GFI Study Guide
GFI Muscle Exercise Worksheet
Evaluation
Video Content
Educational and Practical Videos to help you see, hear, and learn
Examinations
Foundations of Fitness and Exercise Exam (50 Question Online Exam at end of Course)
New Online Exam for Group Fitness Instructor Certification PDF Manual. (80 Theory Questions + 15 Practical Questions = 95 Questions)
After completing this course you will be able to:
Summarize the history and psychology of group fitness.
Describe the roles and legal responsibilities of a group fitness instructor in the fitness industry.
Identify the six essential nutrients and their role in energy production and health.
Recognize the basic Dietary Guidelines for Americans and factors for sustained healthy eating.
Identify the ACSM Guidelines for warm up and cool down, and the Guidelines for exercise using the FITT-VP standards.
Identify the 4 components of an exercise training session.
Explain the differences between cardiorespiratory, muscular fitness, flexibility, and neuromotor training as it applies to group fitness.
Explain 7 ways to monitor exercise intensity.
Recognize 12 class formats commonly used in group fitness training.
List and describe 9 types of equipment used in group fitness training.
Identify 11 instructor skills that contribute to the delivery of safe and effective group fitness classes.
Describe 10 factors important to group fitness instructor professionalism.
List 12 class considerations that play a role in developing a group fitness class.
Identify safe exercise practice and warning signs for 5 special populations.
Describe 5 exercise injuries you may encounter in group fitness.
Define proprioception and muscle confusion.
Online Interactive Foundations course
Muscle Exercise Worksheet
SELF STUDY PLUS
Online Plus Job Guarantee
Online Interactive Foundations course
Muscle Exercise Worksheet
Additional Certification Options
If you are confident in your ability to pass general fitness, anatomy & physiology, and group fitness essentials without first studying the NAFC study course material, this option would be for you.
Product Detail
To become certified with the National Association for Fitness Certification, you must pass the Foundations of Fitness and Exercise 50 multiple question exam and the Group Fitness Certification Theory and Practical 95 multiple question exam with a minimum score of 80%. You must pass the Foundations of Fitness and Exercise Exam before you can access the Theory and Practical exam. If you receive a no pass on an exam, a retake will be necessary. The retake cost is $25.00. 
If you are unsure, then you would benefit from our complete online courses and additional study materials. You will not receive any study materials with this option, so ensure that you have a complete understanding of the education required to pass the exam prior to purchasing. (You can also see the required content under the course objectives tab.)
Feel free to contact an NAFC Career Consultant for help in selecting the best option for you.
$149.00
The NAFC Job Placement Money Back Guarantee assures that you will secure a job in the health and fitness industry within 90 days of completing all certification and career management requirements.
Included at a discount with NAFC Certifications "All-Access" Option
Product Detail
NAFC is committed to providing you with all the tools you need to build a successful and rewarding career.
Not only do we offer a money-back guarantee opportunity, but we also connect you with a Career Management Specialist who will work hand-in-hand with you as your personal career advocate and help place you in the best possible job to match your skill-set.
Your Career Management Specialist will provide you with all of the following services:
Qualify you for jobs in the health and fitness industry 

Gain an understanding of the type of job/career you want

Inquire about any special skills you may possess and/or CECs received

Direct you toward available positions in your area

Advice on 'Career Tools' that will help improve your expertise

Work to place you with fitness and health companies

Help you improve your visibility to companies

Assist in creating resumes and cover letters

Assist in preparing you for the interviewing process

Post a video which serves as an introduction to possible employers and provides evidence of your skills as a trainer.
These services are included with your purchase of the NAFC Job Placement Guarantee at no additional charge.
Job Placement Guarantee Guidelines
If you have met all the required criteria but still have not secured a job within 90 days of completion, NAFC will refund all amounts paid to NAFC for the course package. This money back guarantee applies to the NAFC Personal Trainer and Group Fitness Instructor course packages only.
To receive this refund, you must have applied for at least 5 positions related to the purchased NAFC certification within the 90-day period and have met the criteria for each position (including passing any required background checks). Failure to appear for a scheduled interview will disqualify you from this money back guarantee.
You must also have met with an NAFC Career Management Specialist and satisfied any additional requirements that they assign.
Any refund must be requested from NAFC's Member Services Department within 12 months of purchasing the NAFC course (with Job Placement Guarantee). NAFC reserves the right to request evidence of purchase and/or of job applications and rejections. NAFC may, at any time and without prior notice, change the terms of, or discontinue, this Job Placement Money Back Guarantee.
$199.00