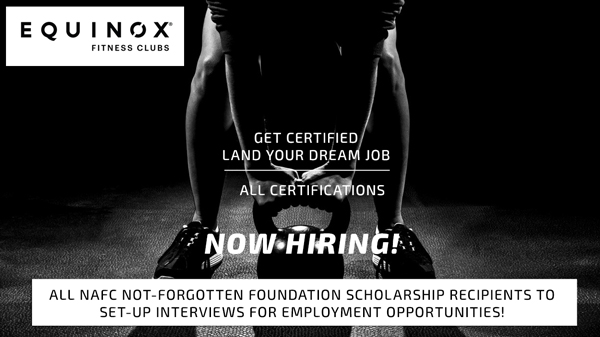 Equinox Exclusive Employment Partner
Equinox Sponsors NAFC Not Forgotten Foundation As Exclusive Employment Partner for Our Military
---
WE ARE CATEGORY ONE
As the leader in fitness, we treat our Personal Training team as the elite individuals they are. We offer the highest compensation in the industry with competitive benefit packages including medical, dental, vision, and retirement plan options.
WE OFFER CAREERS NOT JOBS
Most of the senior leadership in Personal Training at Equinox started as trainers and have since unlocked their potential in longstanding careers with the company. Our aggressive expansion plans demand that we constantly search for new talent capable of growing into key leadership positions.
INDUSTRY GROWTH
The fitness and wellness industry is in desperate need of qualified fitness professionals to meet the growing health issues that we face today (330,000 Personal Trainer jobs, alone, are forecasted by 2026). According to the Centers for Disease Control and Prevention (CDC), nearly 900,000 Americans die prematurely from heart disease, cancer, chronic respiratory disease, stroke, and unintentional injury every year. Additionally, 20 to 40 percent of those deaths are preventable.
NAFC Not Forgotten Foundation
NAFC has dedicated itself to raising the bar on health, fitness, and wellness education, training, and full time career development.
NAFC's "Not Forgotten Foundation" celebrates the compatibility between our transitioning military personnel and the growing need for health, wellness, and fitness professionals.
By NAFC's "Not Forgotten Foundation" providing fitness and wellness education, along with training and assistance from a personal Career Management Specialist assisting in career placement, each of the scholarship applicants will be able to build a stable and meaningful future for themselves and families.
If you have obtained an NAFC Personal Trainer military scholarship and would like further information on this opportunity, please email: military@nafctrainer.com
**Completion of course is not required prior to the interviewLearn More about Military Scholarships at: NAFCtrainer.com