Restore the Core: Integrated Core Training for Real World Function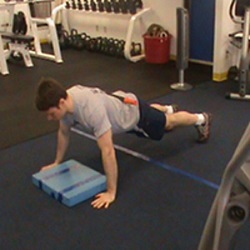 Having a strong mid-section is not only aesthetically pleasing but contributes substantially to overall health and stamina as well. Understanding how to progressively and safely restore the core for your client will build a foundation for supporting the spine and improving overall function in both athletics and activities of daily living. Through video, text and informative pictures, Chris Kelly will teach you how to assess your client's core strength and provide several unique and enjoyable exercises to build your client's most important foundation- Core Strength and Function.
Authors:Chris Kelly CSCS CES PES
Education Level: Beginner, Intermediate
Prerequisites: None
Online Interactive Course
Online Quiz (30 multiple choice questions. Minimum passing score 75%)
After completing this course you will be able to:
Describe the basic concepts of core training including the abdominal brace, common training errors, and how to gain your client's trust.
Describe 5 Core Restore steps for progressing core training exercises.
Explain 3 inner core and 3 outer core assessments for your clients.
Discuss the benefits of plank exercises and describe the 5 Plank Principles.
Discuss standing strength training and explain how to teach 2 standing strength exercises.
Explain how to safely and effectively perform 3 inner core training exercises and a dynamic warm up.
Explain how to safely and effectively perform 4 antirotation and 4 antiextension standing core exercises.
Explain how to safely and effectively perform 3 outer core training exercises.