How to Spot Supplement Scams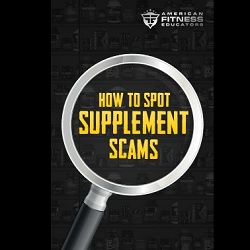 The fitness supplements industry has skyrocketed to a $4 billion a year business, and not every product on the shelves lives up to its hype. As a personal trainer and nutrition coach, an important part of your job is being able to recommend high-quality supplements that will help your clients reach their goals more efficiently.
This engaging multi-sensory course will equip you with the knowledge needed to navigate the complicated world of workout supplements, highlighting major pitfalls along the way. By the end of this course, you'll be able to make informed decisions about which supplements to recommend to clients, and which ones to avoid.
This 30-minute animated course will give you an inside look at the supplement industry, showing you the most common scams in the market today.
PDF – How to Spot Supplement Scams – Press Kit 3 Pages
PDF – How to Spot Supplement Scams – Script 9 Pages
30-minute animated video course
Online Quiz (20 multiple choice questions. Minimum passing score 80%)
After completing this course you will better understand:
Supplement Industry Background
Deceptive Marketing Tactics
Before & After Photos
Scientific Jargon
Celebrity Endorsements
The "Term" Natural
Supplement Label Red Flags
Proprietary Blends
Proper Dosing
Testosterone Boosters
The L-Arginine Myth
Advanced Forms of Creatine
Protein "Spiking"