Core Conditioning Camp: Part 1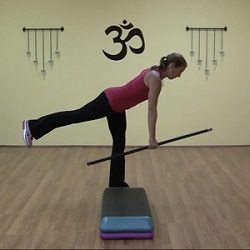 This multi-media course uses video, text, and pictures to provide you with choreography for a complete core workout. Learn how to teach this workout which includes powerful cardio moves that focus on extreme calorie burning combined with unique strength exercises that will sculpt the body. The workout includes an emphasis on balance training to challenge the core and uses functional and interval training techniques. Have your clients engage multiple muscle groups to maximize energy expenditure and increase post workout caloric burn. Keep your clients coming back for more core with this workout!
Author: Melissa Weigelt MS RYT
Education Level: Beginner, Intermediate, Advanced
Prerequisites: None
Online Interactive Course
Online Quiz (20 multiple choice questions. Minimum passing score 75%)
After completing this course you will be able to:
Understand principles and teaching strategies for core functional exercises.
List and describe class components for a core conditioning camp work out.
Learn a sequence of exercises designed to challenge core stabilization, muscular endurance, and cardiovascular conditioning.
Learn how to build on the exercises introduced in this workshop and progress the sequences so that clients will continue to be challenged.
Learn options for each exercise so that clients at all levels achieve success.