Develop the mastery to confidently coach and support your clients to achieve their healthy lifestyle goals.
Wellness Consultant Course Information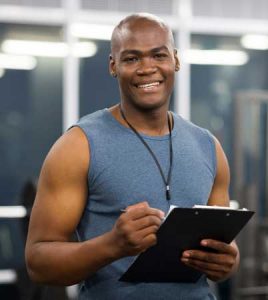 Prerequisites:
Minimum GED or High School Diploma required.
You must be 18 years of age or older.
You must have and maintain a CPR/AED certification.
Course Education Level: Intermediate
Continuing Education Credits: 3.0 NAFC, 3.0 NESTA
How it Works:
To earn this certification…
You must complete all course modules.
You must take and pass all required examinations with a score of 80% or higher.
Time to Complete: You have up to 18 Months to complete Examination Process
Course Access: Continued access with updates available
Certification Process:
Your NAFC Wellness Consultant Certification is valid for 24 months. During that 24 months you must complete continuing education prior to your renewal date to qualify for re-certification.
Recertification is required to keep you up to date with industry standards and practice. You must complete and submit 15 hours (1.5 NAFC credits) of continuing education in a 24 month period of time prior to your renewal date and complete a re-certification application to be recertified.
Learn how to build a foundation of nutritional knowledge to help guide your clients in developing their food plans. This certification is based on college-level nutrition courses.
Learn assessment techniques for measuring cardiovascular endurance, muscular strength, endurance, flexibility and body composition. Practice applying these test results for individual program development and goal setting.
Learn to effectively communicate the health benefits of fitness, disease prevention, diet and nutrition, behavior modification, stress management, and total wellness. Develop motivation and behavior modification strategies to enhance compliance with a fitness and wellness program.
Wellness Coach Required Course Material:
Wellness Coach Certification Introduction Document
Nutrition Coach Foundations Instructor Interactive Study and/or Downloadable Nutrition Coach Foundations Manual 
Nutrition Coach Foundations Theory Exam
Fitness Assessment Interactive Study and/or Downloadable Fitness Assessment Manual 
Fitness Assessment Theory Exam
Lifestyle Consultant Interactive Study and/or Downloadable Lifestyle Consultant Manual
Lifestyle Consultant Theory Exam
Nutrition Coach Foundations Interactive Study and Manual Objectives
Upon completion of this course you will be able to:
Recognize anatomy and physiology at a basic level and how it relates to human nutrition.
Explain the science of the 5 basic components of human nutrition.
Identify nutrient intake guidelines.
Identify the latest United States government guidelines and recommendations for nutrition.
Describe how a nutrition coach plays the role of an educator, counselor, and consultant.
Explain how to coach clients for nutrition within scope of practice and guidelines including required forms/information.
Fitness Assessment Program Objectives
Upon completion of the program you will be able to:
Understand and apply at least two common methods to assess body composition.
Assess cardio-respiratory fitness through several different testing protocols.
Interpret cardio-respiratory endurance assessment results.
Predict oxygen uptake and caloric expenditure from exercise heart rate data.
Assess muscular strength and endurance through different strength-testing protocols.
Interpret strength testing results.
Recognize the variables that govern the development of muscular strength and endurance.
Assess flexibility.
Administer performance tests to assess skill-related fitness.
Formulate a comprehensive fitness program based on the results of the fitness assessment.
Lifestyle Consultant Program Objectives
Upon completion of the program you will be able to:
Effectively communicate benefits of health and fitness.
Understand disease prevention.
Understand the role of nutrition in disease prevention.
Understand the role of weight management in disease prevention.
Understand the importance of preventing cardiovascular disease.
Understand cancer risk management.
Apply stress management techniques.
Understand the health risks of tobacco use.
SELF STUDY
Online Interactive